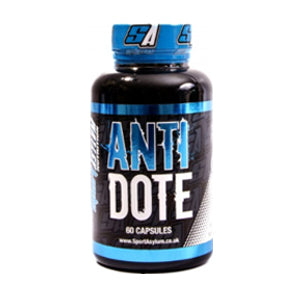 SA Nutrition Antidote (60 capsules)
The search for the 'Ultimate' PCT product is over.......
We went deep into the Asylum to formulate this product. The doctor spared no time or cost when formulating ANTIDOTE. Packing a huge 100mg of ATD per serving along with 50mg of Alpha 5a Hydroxy making it three times as strong as any other PCT on the market.
Three times the Power!!! Faster recovery time.....
Antidote also contains hefty doses of Vitamin D3, Tribulus, Saw Palmetto & Mucuna Pruriens - this product is a 'Cut above the Rest'.
SA Nutrition produce the most considered and complete products on the market with Antidote being no exception. Check out the doses of the ingredients and compare them to all the competition. You will see why so many people are joining the Asylum Revolution.
ARE YOU READY TO MEET THE DOCTOR.....................
Nutrition Information
Serving size - 2 capsules. Servings per container - 30
Typical values                                                           Per 2 caps serving
Tribulus                                                                           400mg
Saw palmetto                                                                  300mg
Mucuna pruriens                                                             200mg
Androstatrienedione (ATD)                                             100mg
Alpha 5a hydroxy                                                              50mg
Vitamin D3                                                                        10ug
Other ingredients - cellulose powder,magnesium stearate,geletin capsule shell