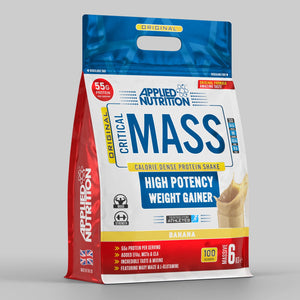 Critical Mass - Original 6kg (25 Servings)
CALORIE RICH PROTEIN SOURCE
HIGH POTENCY WEIGHT GAINER
Food Supplement
Critical Mass has been designed for people who find it hard to gain body mass, a hard gainer. Critical Mass provides a calorie-dense formula comprising high levels of protein and carbohydrate in every serving. This is to ensure that your growing muscles get all of the vital nutrients they need to develop and recover.
Critical Mass contains up to 58.8 grams of the highest biological value proteins per serving. These will provide the building blocks for your muscle tissue. It also contains a precise ratio of complex and fast-acting Carbohydrates. Consuming enough Carbohydrates is essential and will prevent you from losing muscle tissue. This makes Critical Mass ideal for any individual needing a high Carbohydrate meal during the day or after a tough training session.
One of the key complex carbohydrates within Critical Mass is the super-high molecular weight Waxy Maize Starch (WMS). WMS has the ability to replenish the body's glycogen stores much faster than conventional carbohydrate sources. This is accomplished by WMS's ability to bypass the stomach and go to the intestines for immediate absorption. WMS's ability to shuttle all these nutrients and starch into the body gives you an immediate "pump" you can physically feel in your muscles post-workout. You will see a much larger, fuller, and rounder muscle belly.
Critical Mass also contains a blend of Essential Fatty Acids, Medium Chain Triglycerides, and CLA. This blend of "Super Fats" has been designed to give your body the tools that it needs to recover from intense physical exercise.
CRITICAL MASS SHOULD BE USED BY:
 • Individuals wanting a calorie-dense body mass gain formula. • "Hard-gainers" that struggle to put on weight (people with a high metabolic rate). • Strength athletes, bodybuilders & weight-lifters. • High energy athletes such as rugby players, boxers, wrestlers, etc. • Anyone wanting to "bulk-up", gain muscle weight, or improve all-around athletic performance. • Aerobic athletes wanting to build muscle or increase strength.


KEY BENEFITS
Original Critical Mass Formula
Added Essential Fatty Acids (EFA's), CLA & MCT Powder
High Calorie, Protein & Carbohydrate Shake
Featuring Waxy Maize Starch
With added L-Glutamine
Recommended to be used with iDRIVE™ Insulin Driver
Halal Certified Product

SUGGESTED USE
Mix 4 scoops (240g) with 500 - 1000ml of milk or water and shake well using a shaker bottle. Consume 1-3 servings daily depending on your calorie requirements.

Critical Mass is a carbohydrate-dense shake and pairs perfectly with Applied Nutrition's GDA (Glucose Disposal Agent) iDrive™ Insulin Driver.
*Scoops are estimated only, weighing scales are recommended.