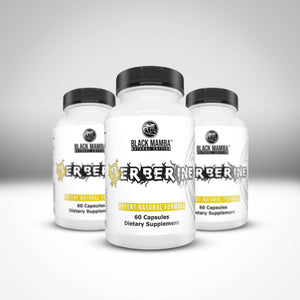 - Notice - 
Black Mamba are switching from BLACK Gelatine capsules to CLEAR Vegetarian Capsules (HPMC). The version you receive may vary until all Black Caps are gone.
Introducing Berberine: Unlock Your Health Potential!
Are you ready to supercharge your health and well-being? Say hello to Berberine - your new secret weapon for a healthier you! Packed with the power of nature, this supplement is here to help you thrive.
What's Inside?
60 capsules of Berberine HCL at 500mg per capsule
A dash of 5mg BioPerine® for that extra oomph!
How to Use: Take 1 capsule twice a day with your favorite meals. Easy peasy!
Why You Need Berberine: 🌿 Berberine HCL: Nature's Gift for Your Body Berberine is an incredible compound found in plants like goldenseal and barberry. It's like a superhero for your health, with benefits that include:
Supports Healthy Blood Sugar: Berberine helps maintain balanced blood sugar levels, which is fantastic news for your overall health.
Heart Health Champion: It loves your heart as much as you do! Berberine supports cardiovascular health by keeping your cholesterol in check.
Weight Management Buddy: Looking to shed a few pounds? Berberine can help you on your weight management journey by supporting healthy metabolism.
Gut-Friendly: A happy gut is a happy you! Berberine promotes gut health, supporting a balanced microbiome.
🌱 BioPerine®: The Cherry on Top We've added a sprinkle of BioPerine® for maximum absorption. It's like a boost button for Berberine, ensuring your body gets the most out of every capsule.
Why Choose Berberine?
Quality Assurance: We believe in quality over everything. Our Berberine is meticulously sourced and rigorously tested to meet the highest standards.
Easy Integration: With a simple dosage of 1 capsule twice a day, it's effortless to fit Berberine into your daily routine.
Feel the Difference: Experience the incredible benefits of Berberine for yourself. From energy to heart health, you'll be amazed at the positive changes.
Say hello to a healthier, happier you with Berberine! It's time to embrace the power of nature and take charge of your well-being. Don't wait; order your bottle today and embark on your journey to a healthier lifestyle!