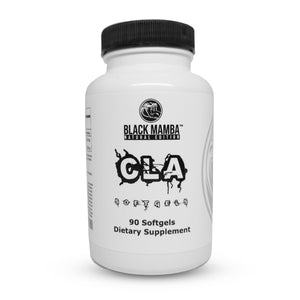 - Notice - 
Black Mamba are switching from BLACK Gelatine capsules to CLEAR Vegetarian Capsules (HPMC). The version you receive may vary until all Black Caps are gone.
Our CLA softgel capsules are a great way of making sure you get a quick fix of omega-6, giving you 1000mg of safflower oil with 80% conjugated linoleic acid per serving.
Conjugated Linoleic Acid (CLA) is a naturally occurring omega-6 fatty acid that can't be produced by your body. As CLA is most commonly found in meat and dairy, it can be difficult and expensive to get enough from food alone.

We recommend our CLA capsules to anyone wanting to increase their intake of omega-6, particularly if you lead a hectic lifestyle which may make it harder to get enough of this fatty acid from what you eat alone.