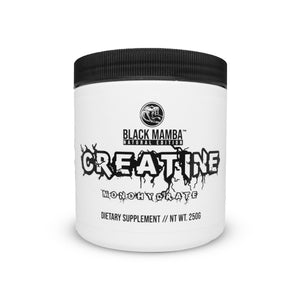 250G | 50 SERVINGS
Creatine Monohydrate is suitable for anyone partaking in prolonged or high-intensity exercise, looking to improve physical performance. Creatine provides the purest, most readily absorbed Creatine Monohydrate formula available. Studies report that the increase of Creatine levels will help delay the onset of fatigue, increase energy metabolism in the muscle cells and enhance the body's overall training capability.
KEY BENEFITS
Creatine Monohydrate increases physical performance in successive bursts of short-term, high intensity exercise
Can be easily mixed in water
Tested for Athletes
Halal Certified Product
SUGGESTED USE
Add 1 serving (5g) to water, shake and consume. Use 1-2 times daily preferably directly before and after exercise. After 8 weeks of continued use take 1 week off and start cycle again.
NUTRITIONAL INFORMATION
Serving Size:
1 Scoop (5g)
Servings Per Container:
50
Per Serving
Creatine Monohydrate 5000 mg
INGREDIENTS
100% Creatine Monohydrate.