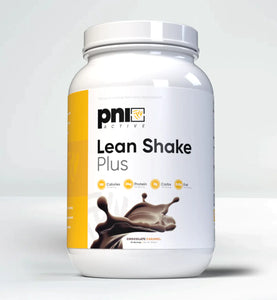 Amazing Taste

24g of Protein Per Serving

Unique Tri-Protein Blend (whey, casein & egg albumin)

Gluten & Lactose Free

Less Than 1g of Fat & Sugar

Vitamins & Minerals Included
PNI Active Lean Shake Plus is so much more than a protein shake. What separates this meal replacement shake from others is that it is gluten and lactose free, making it suitable for those with celiac disease, lactose intolerance, digestive or bloating issues.
The protein tri blend is unique too, as it utilises a 33.3% of whey protein, casein and egg albumin. This promotes both fast and slow absorption, which is great for supporting muscle health after a workout but also helps boost protein synthesis and reduce control cravings.
Additionally, its low calorie, sugar and fat yet high protein makeup makes it perfect for weight management and muscle support. There is also a host of vitamins and minerals in Lean Shake Plus to support your health and well-being.
Nutritional Information
Energy - 460.57kj
Calories - 110kcal
Carbohydrates - 2g
of which sugars - 0.75g
Fats - 0.5g
of which saturates - 0g
Fibre - 0.75g
Protein - 24g
Sodium - 30mg
Protein Sources
Whey Protein - 9.63g
Micellar Casein - 9.63g
Egg Albumen - 9.63g
Lactase Enzyme - 23mg
L-Carnitine - 250mg
Green Tea 95% EGCG - 120mg
Sucralose - 120mg
Xantham Gum - 270mg
Colour - 600mg

Ingredients: Whey Protein Concentrate (WPC80), Egg Albumen, Micellar Casein (Milk)
Thickener (Xanthan Gum), Natural Flavouring, Sweetener (sucralose)
How To Take
Add 200-300ml of water to your shaker, add 1 scoop of Lean Shake PLus and shake for 15-30 seconds. Drink & Enjoy!