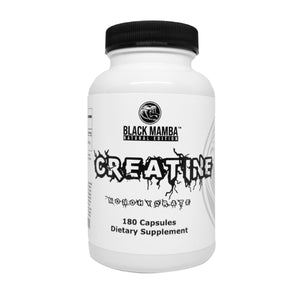 - Notice - 
Black Mamba are switching from BLACK Gelatine capsules to CLEAR Vegetarian Capsules (HPMC). The version you receive may vary until all Black Caps are gone.
Black Mamba Creatine Monohydrate capsules are suitable for anyone partaking in prolonged or high-intensity exercise, looking to improve physical performance.
Creatine provides the purest, most readily absorbed Creatine Monohydrate formula available. Studies report that the increase of Creatine levels will help delay the onset of fatigue, increase energy metabolism in the muscle cells and enhance the body's overall training capability.
Product Info
3g creatine monohydrate per serving
180 gelatin capsules
30 servings per tub
Suggested Use
Take 6 capsules once per day. Use every day preferably directly before or after exercise. Take even on rest days.