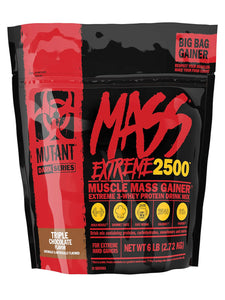 MUTANT MASS EXTREME 2500 was made for extreme hard gainers who simply can't gain mass no matter how much they eat or how hard they train. Those with an extremely fast metabolism and busy on-the-run lifestyle need extra calories but have difficulty eating enough to gain muscle.*
Each serving of MUTANT MASS EXTREME 2500 delivers 1,270 calories, 46 grams of protein, 255 grams of carbohydrates, and 7.5 grams of healthy fat when mixed with just two cups of 1% milk.
Drink one shake post-workout and another in between meals or before bed to fuel your body with an extra 2,540 calories per day! When added to your diet and training, nothing packs on mass like MUTANT MASS EXTREME 2500.*
MUTANT MUTANT MASS XXXTREME 2500 INGREDIENTS & NUTRITION FACTS
Mutant Mass Mutant Xxxtreme 2500 - Cookies and Cream
Serving size: 4 scoops (285g)
 Amount Per Serving       per 100g
Energy (kcal) 1070 / 37,  Protein 30g / 10g, Carbohydrate 230g / 80 of which sugars 4g / 1.4, Fat 3g / 1g of which saturates 2g / 0.7g, Dietary Fibre 6g / 2g, Sodium 440mg / 154mg, Calcium 150mg / 52mg, Cholesterol 45mg / 15mg
Enzyme Blend (Lactase, Protease) 25mg / 8ng
Glutamine 5g / 1.7g, Iron 4g / 1.4g, Iso-Leucine 2g / 0.7g, Leucine 3.1g / 1g, Potassium 0.9g / 0.3g, Valine 1.6g / 0.5g
** % Daily Value is based on a 2000kcal diet
† Daily Value is not yet established
Other ingredients: Clean-Phase Carbo Blend (Maltodextrin, Waxy Maize [Corn] Starch, Barley Starch, Sweet Potato, Rolled Oat), 3-Whey Protein Multi-Phase Blend (Whey Protein Concentrate, Whey Protein Isolate, Hydrolyzed Whey Protein; From Milk), Lipid Foods Blend (Fractionated Coconut [MCT] Oil, Avocado, Pumpkin Seed), Thickeners (Defatted Soybean, Pea, Guar Gum), Contains 2% or less of; Natural & Artificial Flavors, Natural Cream Flavor, Sunflowe and/or Soy Lecithin, Sucralose, Patossium Citrate, Silicon Dioxide, Enzymes (Lactase, Protease), Cinnamon Extract (Cinnulin PF), Tart Cherry.
Allergen Warning: Contains MILK, COCONUT, SOY. May contain traces of nuts
MUTANT MASS XXXTREME 2500 DOSAGE & HOW TO USE
As a dietary supplement, add 480 ml of low fat milk to a blender or large shaker cup, then add 1 serving (4 scoops) of Mutant Mass XXXTreme 2500, blend or shake for 20–30 seconds; twice a day.