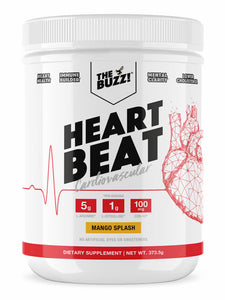 THE BUZZ! Heartbeat
Heartbeat is a L-Arginine supplement packed with vitamins and minerals to support healthy blood flow and energy levels, contributing to lower blood pressure and improved cholesterol. Perfect for cardio fitness, pre-workout energy and blood circulation. Heartbeat is suitable for vegetarians, gluten and dairy free.
Heart Health
Immune Builder
Mental Clarity
Lower Cholesterol
THE BUZZ! HEART BEAT offers a broad approach with ingredients to support multiple aspects of cardiovascular health such as:
Vitamins and Minerals do so much to support our body including cardiovascular health. They are not limited to specific categories in which they can help, for example Vitamin C is well known for its immune boosting capabilities yet, it can also be beneficial in lowering blood pressure.
Amino Acids are the building blocks for our life. Two amino acids that are important for cardiovascular health are L-Arginine and L-Citrulline. In combination, these two can increase nitric oxide production which relaxes the vessels and boosts blood flow. They also have the potential to reduce age related cardiovascular issues caused by damaged cells.
CoQ10 is a supplement that seems limitless when it comes to cardiovascular health, because of this it has been studied greatly as a potential solution.  In these studies, CoQ10 has been shown to help with coronary artery disease, hypertension, and potentially reduces cardio toxicity caused by anti-cancer drugs.
EDTA is popularly used in chelation therapy for removing heavy metals such as lead in the body. It has also been used for atherosclerosis and coronary heart disease. Some people have had success with removing plaque from arteries because the EDTA binds to the calcium deposits and moves it out. If your coronary arteries are clogged with plaque, there is potential for your other arteries in the brain, kidneys, lungs, and other organs to be in a similar state.
Antioxidants help bring balance to abundance of free radicals in the body caused by oxidative stress. This imbalance triggered by free radicals can lead to several diseases including heart disease. One way to correct this is to consume fruits that are high in antioxidants either fresh or in supplement form. Some well-known antioxidant rich fruits are Cherries, Grapes and Pomegranates.
Suggested Use
Add 1 scoop with 8-10oz of water (adjust the amount to your taste) and mix. For best results do not consume with food. Store in a cool, dry place. Keep out of reach of children. Do not use if safety seal is broken or missing. Contents sold by weight not volume, some settling may occur.